Specifications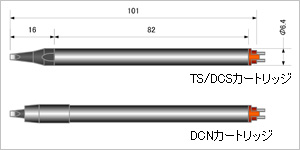 Model Number: TS series
Brand Name: Apollo Seiko
Place of Origin: China (Mainland)
Material: Oxygen-free copper purity >99.95%
Lead Time: 1~2 Weeks
Apllication: For all Apollo Seiko soldering robot
Advantage: Up to 300 degree centigrade in 6 seconds
Free samples available + Custom-made service available + Perfect after-sales service.
Features
*Designed to meet Lead free soldering requirements.
*A high precision thermocouple is built in to the Top of the iron tip, a minimal temperature drop can be quickly detected and recovered, temperature can reach 300° C within 6 seconds.
*Quick change cartridge type iron provides for consistent location and height adjustment with each tip change.
Standard Models
Apollo Seiko Soldering Tips TS-PAD/PDS Series
TS-08PAD03-E08; TS-10PAD03-E08; TS-13PAD05-E15; TS-16PAD06-E15; TS-20PAD07-E15; TS-24PAD08-E15; TS-30PAD10-E30; TS-40PAD10-E30; TS-50PDS-E40; TS-60PDS-E40; TS-80PDS-E50
TS-08PAD03-B08; TS-10PAD03-B08; TS-13PAD05-B15; TS-16PAD06-B15; TS-20PAD07-B15; TS-24PAD08-B15; TS-30PAD10-B30; TS-40PAD10-B30; TS-50PDS-B40; TS-60PDS-B40; TS-80PDS-B50
Apollo Seiko Soldering Tips TS-PDZ Series
TS-13PDZ08-EZ15; TS-16PDZ12-EZ15; TS-20PDZ14-EZ15; TS-24PDZ16-EZ15; TS-30PDZ20-EZ30; TS-40PDZ24-EZ30; TS-50PDZ35-EZ40
Apollo Seiko Soldering Tips TS-GDV Series
TS-10GDV07-EZ10; TS-13GDV08-EZ15; TS-16GDV10-EZ15; TS-20GDV14-EZ15; TS-24GDV14-EZ15; TS-30GDV17-EZ30; TS-40GDV17-EZ30; TS-50GDV17-EZ40; TS-60GDV23-EZ40;
TS-10GDV07-BZ10; TS-13GDV08-BZ15; TS-16GDV10-BZ15; TS-20GDV14-BZ15; TS-24GDV14-BZ15; TS-30GDV17-BZ30; TS-40GDV17-BZ30; TS-50GDV17-BZ40; TS-60GDV23-BZ40; TS-80GDV52-BZ50
Apollo Seiko Soldering Tips TS-GAV Series
TS-20GAV14-EZ15; TS-24GAV17-EZ20; TS-30GAV21-EZ30; TS-40GAV28-EZ30
Apollo Seiko Soldering Tips TS-PCA/PCS Series
TS-10PCA-B; TS-13PCA-B; TS-16PCA-B; TS-20PCA-B; TS-24PCA-B; TS-30PCA-B; TS-40PCA-B; TS-50PCA-B; TS-60PCA-B; TS-80PCA-B
Apollo Seiko Soldering Tips TS-PCZ Series
TS-20PCZ10-BZ; TS-24PCZ12-BZ; TS-30PCZ14-BZ; TS-40PCZ16-BZ; TS-50PCZ24-BZ
Apollo Seiko Soldering Tips TS-KAA Series
TS-16KAA45-B; TS-20KAA45-B; TS-24KAA45-B; TS-30KAA45-B; TS-40KAA45-B; TS-50K45AS-A
Apollo Seiko Soldering Tips TS-RDD Series
TS-20RDD-B20; TS-24RDD-B20; TS-30RDD-B20; TS-40RDD-B20; TS-50RDD-B20
Apollo Seiko Soldering Tips TS-PAH Series
TS-14PAH08-F-AZ; TS-20PAH13-F-AZ; TS-26PAH18-F-AZ; TS-32PAH22-F-AZ; TS-40PAH30-F-AZ
Apollo Seiko Soldering Tips TS-PSW Series
TS-16PSW08-F-AZ; TS-22PSW11-F-AZ; TS-30PSW15-F-AZ